Cranberry brie bites
Appetizers are always important when it comes to entertaining, and this simple recipe is the perfect thing to serve! They're easy to make and easy to serve as finger food. Cranberry and brie are both classical winter or holiday flavors, too. Consisting of less than 10 ingredients, this recipe can be completed in less than 1 hour.
They're made using crescent roll dough from the tube, flour, cooking spray, a wheel of brie, cranberry sauce, rosemary, and chopped pecans. A great thing about this recipe other than its simplicity and taste is that you can customize it any way you like. If you don't like pecans or cranberries, fill these bites with something else! Or, you can make a few batches with different fillings in each one. The possibilities are endless, and your guests will love this elevated appetizer that looks and tastes impressive. For the full step-by-step recipe, check it out
here
on Delish!
Holiday roasted vegetables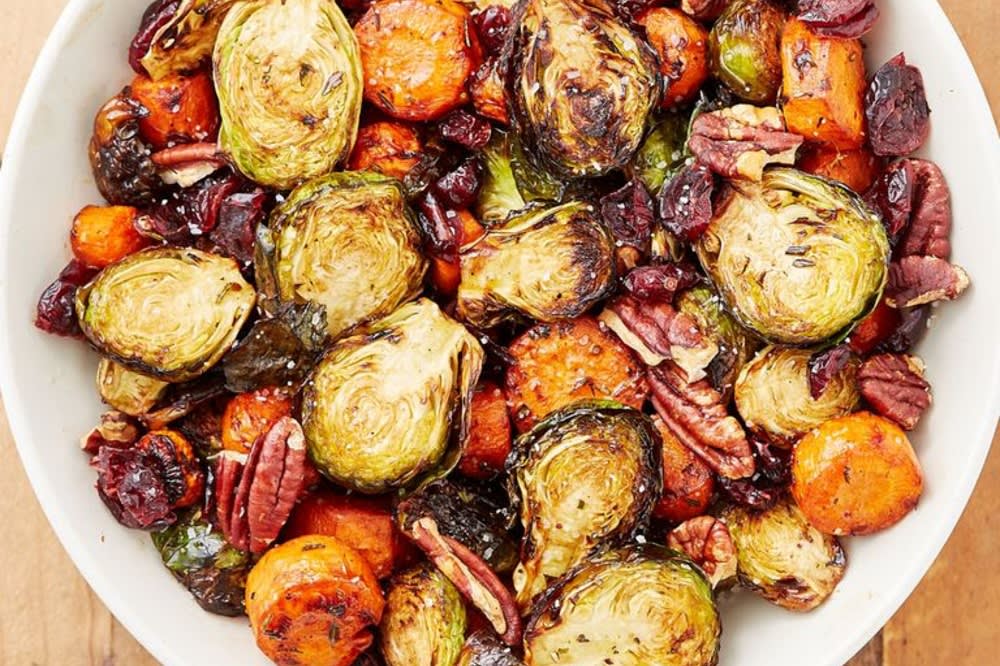 Credit: Delish

Who says vegetables can't be exciting? This roasted vegetable recipe combines many kinds of vegetables and prepares them in a way that everyone is sure to love. With amazing flavors, it'll go perfect with your ham or turkey or anything else you're serving as your main dish! This recipe calls for Brussel sprouts, large carrots, olive oil, balsamic vinegar, rosemary, thyme, kosher salt, black pepper, toasted pecans, and dried cranberries. It goes beyond just plain vegetables and takes them to the next level in terms of flavors and taste. Cranberries and pecans are two ingredients that feel like winter and the holidays, too!
If you prefer other vegetables to Brussel sprouts and carrots, feel free to swap them out with your favorites. Another thing about this dish is how bright and colorful it is—it looks and tastes impressive and your guests will fall in love! Check out the full holiday roasted vegetables recipe instructions
here
!
Big soft gingerbread cookies
Gingerbread cookies are a holiday classic during this time of year. So, why not make some tasty soft gingerbread cookies for your guests to enjoy? You can make these as a snack or even as a dessert! They go perfectly with tea or coffee too, making it an ideal recipe for entertaining. Cookies have a lot of versatility—you could even send a few home with your guests if you like!
One thing to love about this recipe is that it's easy, convenient, and doesn't take too long to make. It makes two dozen cookies and only takes 50 minutes total—including prep time! The ingredients you'll need are all-purpose flour, ground ginger, baking soda, ground cinnamon, ground cloves, salt, white sugar, margarine, an egg, water, and molasses. Be sure to take a look at the full baking instructions at
AllRecipes
.

The best part of this recipe is the cookies' fantastic taste—people love both their softness and flavor. With a rating of almost 5 stars from over 6,000 reviewers, you can be sure your guests will love them, too! Since this recipe makes two dozen cookies, it's perfect for both smaller or larger gatherings.
Wintertime tortellini soup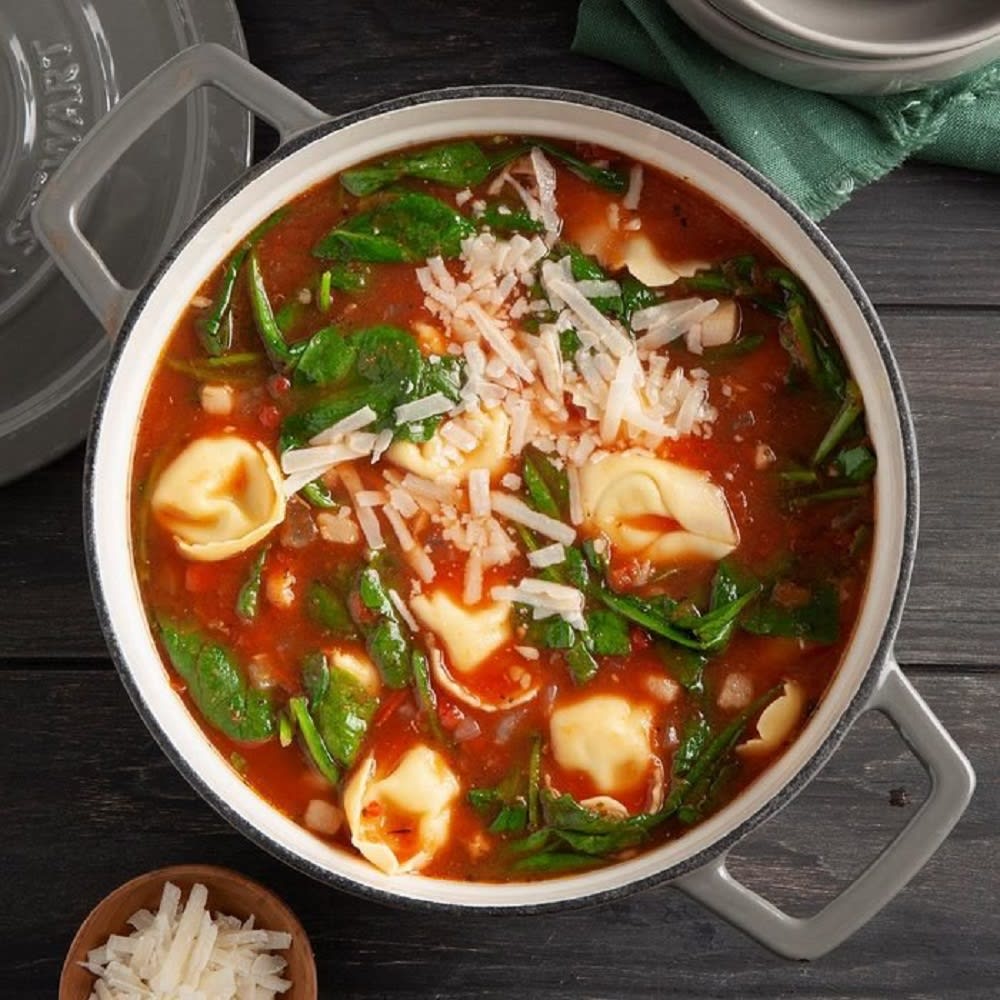 Nothing says winter like nice, warm soup. It just feels cozy, and best of all, it's delicious! One soup that is perfect for entertaining is this holiday tortellini soup. It's on the hearty side, full of amazing flavors, and definitely suits the winter entertainment theme. It's sure to be a crowd-pleaser as it combines two things people love—soup and pasta!
For this recipe, you'll need olive oil, pancetta or bacon, onions, garlic cloves, chicken broth, Italian seasoning, refrigerated cheese tortellini, crushed tomatoes in purée, fresh spinach, Parmesan cheese, salt, and pepper. Just by looking at the ingredients list, you can see the flavors that will shine through. This recipe is quick too, as it takes under 1 hour to make. To see the full directions, find the recipe on
Taste of Home
.

Because the soup has so much packed in it, from cheese pasta to vegetables and meat, you can choose to serve it as a meal itself. Some have even added in extra tortellini to make it more filling. However, if you want to incorporate this dish into a larger meal, serve a smaller portion as the first course! Another wonderful thing about this recipe is that if you have leftovers it's easily freezable, so you can enjoy it again another time! This hearty winter soup is sure to be a memorable one that your guests will love.
Honeycrisp salad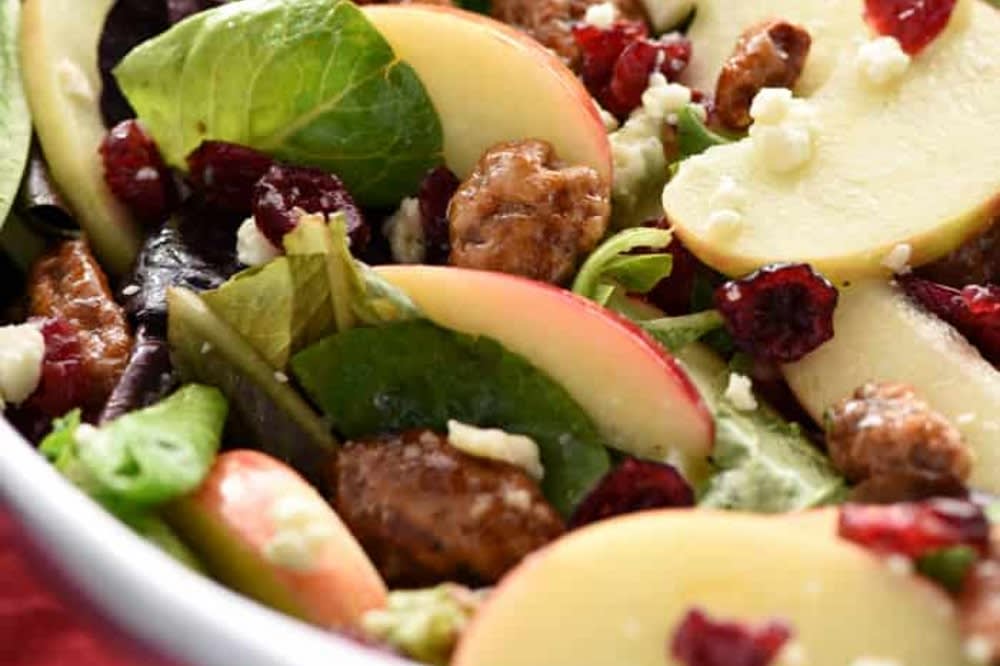 A salad is always a lovely side to go along with your main course. So, if you're looking for something colorful and flavorful, you'll love this tasty honeycrisp salad. An extra perk about this recipe is that it only takes 20 minutes to make, so it's so easy to put together—and it looks and tastes impressive! Apple is another classic winter flavor, with honeycrisp being popular for its sweet taste.
For this salad, you'll need fresh apple slices, crunchy toasted pecans, chewy dried cranberries, zippy blue cheese, and apple cider vinaigrette. You'll also need salad greens. While this recipe calls for dried cranberries and toasted pecans, if you prefer a different type of dried fruit or nut, you can easily substitute them!
Here
is the full salad recipe and instructions. This salad can go with any meal, whether it's a pasta dish, a full turkey dinner, or anything in between. Even people who aren't salad lovers are sure to be impressed by what this recipe has to offer.
Holly jolly chicken
Choosing what to serve while hosting for the holidays can be hard, especially when it comes to your main course. So, if you're unsure of what to serve, consider this festive chicken recipe. It's easy to make and ideal for entertaining any guests you have this winter.

Another great thing? It can easily be paired with many of the other recipes suggested here, whether that's the honeycrisp apple salad or the holiday roasted vegetables. Chicken is a dish that most people like too, which is great when you have guests over who may have their own individual tastes and preferences.
What you'll need for this recipe is chicken breasts, fresh or dried cranberries, goat cheese, dried leaf sage, butter, a pinch of salt, and white wine. Here, the chicken breast is stuffed with cranberries, cheese, and sage—yum! Then, it's sauteed in butter and glazed with a white wine sauce. All of this only takes around 40 minutes to make, tastes fantastic, and your guests are sure to be impressed by it. If you're thinking of making this chicken dish,
here
is the full recipe and instructions.
Cream cheese mashed potatoes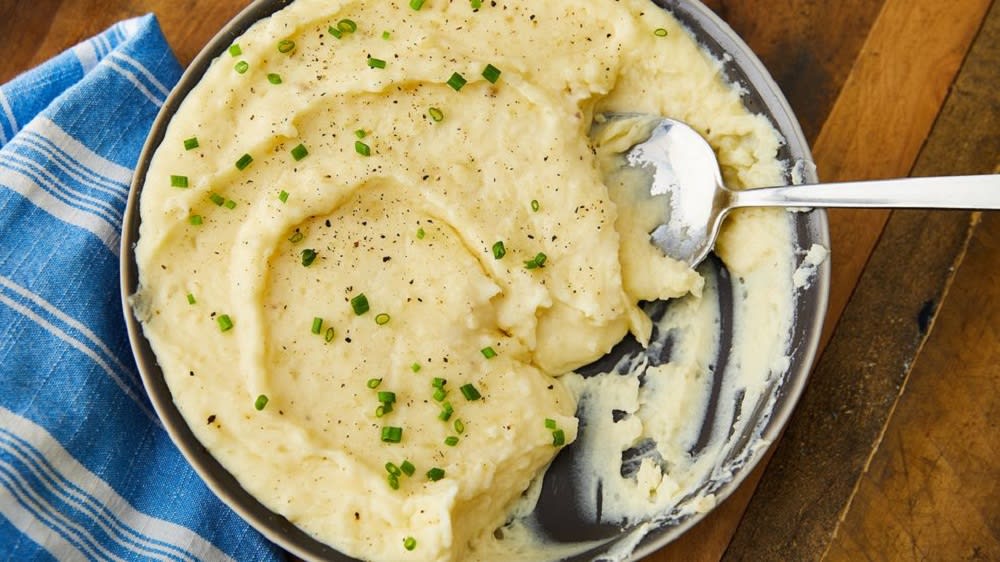 Credit: delish

Potatoes are always a delicious option to serve when you're hosting guests. A simple and effective way to elevate your basic mashed potatoes dish is to add some cream cheese. It makes the potatoes even creamier than they usually are and adds extra flavor. All you need to make this recipe is Russet potatoes, kosher salt, block cream cheese, butter, milk, freshly ground black pepper, and freshly chopped chives.
Check out the full instructions
here
. Potatoes are a very versatile dish—it's so easy to make and your guests will love it, making it the perfect side dish when it comes to entertaining this winter.
Looking for real estate?
If you're looking for a new place to move to or looking to entertain in D.C., be sure to get in contact with
Daniel Brewer and Sebastien Courret
. They can help you with all of your real estate needs.