The bathroom is one of the most important rooms in your house. It's where you get ready every morning, but more importantly, it can be the place where you go to find some peace and relaxation. When you live in a busy city like Washington DC, it is essential to have spaces to unwind and fully relax.


Here are a few tips to create a spa-like space in your home.
Upgrade your showerhead
One key to creating a spa-like experience in your bathroom is installing a luxurious showerhead with different settings. . Instead of just a quickshower make it a much more tranquil and calming moment of your day. Install a
showerhead
with multiple settings that range from a light soothing stream to a harder, more direct pressure to massage the body.
Even smart showerheads make changing the water pressure and stream style incredibly easy. If you want to keep it relaxing, then invest in a rainfall showerhead tomimic the magic of being caught in a light spring shower. You can also install a dual shower head to have the rainfall shower or the massage head when needed.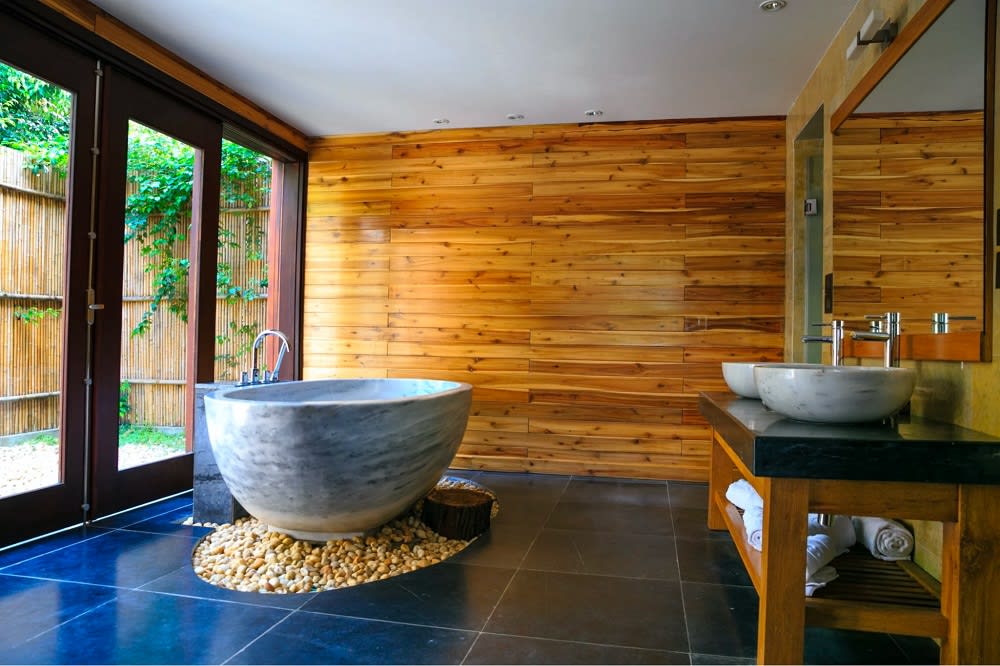 Incorporate natural materials
Spas often use elements of nature to create a relaxing and meditative setting for their clients. After all, nature is where we usually feel most at peace and one with ourselves, so bringing those elements into your space will provide peace in your home... You can achieve this in multiple ways and with
numerous different materials
. For example, you can incorporate stone walls or floor tiles, design a rock bed for your tub, or install wood flooring or paneling on the walls. The possibilities are endless.
Bringing in plants is another great way to immerse yourself in natureake sure to find plants that will withstand the room's humidity—types such as aloe vera or bamboo will thrivein your bathroom. Find the materials and tones that will elevate your space the most and allow you to feel relaxed and centered.
Set up a surround-sound system
To create the ultimate luxurious experience, add soothing and relaxing sounds for privacy and tranquility. There are many portable or convenient speakers to consider, or you can have the
speakers installed
right into your ceiling for the ultimate spa experience
Install heated floors
After a long, hot bath, one of the worst feelings is stepping onto a freezing-cold floor. Give yourself the luxury of heated flooring that you can adjust to the perfect temperature. This is especially important in the winter months when DC temperatures drop. You can also consider a towel warmer to heat your towel and robe for an added luxurious and comforting touch.
Install a soaking tub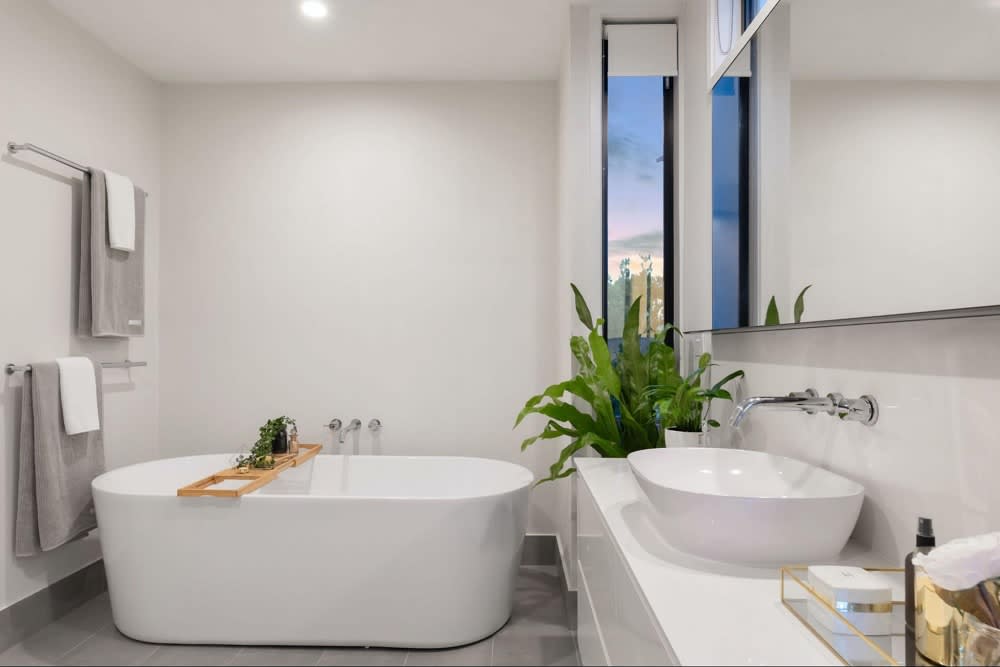 When it's time to relax, nothing feels as comforting as a soaking tub. These come in various shapes, sizes, and colors, making it easy to find one that fits your dream aesthetic. To enhance the luxury, position a wooden tray on the tub or near a window so you can enjoy your beautiful surroundings while sipping on the beverage of your choice.
Install a sauna
Saunas are great for easing pain, reducing stress, and even helping with skin or cardiovascular problems. For those with extra space, you can now enjoy these benefits right from the comfort of your home. Private saunas can easily be added into your primary bathroom suite, offering a place to detox after a workout or a stressful day. In your own private sauna enjoy specializing the temperature, humidity level, and materials exactly to your preference. Turn on some relaxing music and step into your very own personalized private escape.
Use calming tones
Setting the color tone for your bathroom is crucial because you will see it every day, and colors are proven to affect your mood. Surround yourself with colors that help you relax. Neutral colors such as beiges, whites, creams, and grays are a great place to start because they allow you to incorporate many pigments along with them. Add color through the use of decorations and artwork. Try to keep colors pale and muted to keep the space tranquil and calming.
Make use of storage areas
To create a truly spa-like feel, make sure to keep clutter under control. This space is your oasis, so make sure to implement storage options in your bathroom to keep everything organized, tucked away, and out of sight. You can even use the storage spaces as an additional way to decorate and personalize the space. Paintings can be used as doors to disguise cabinetry, decorative baskets can be used for small everyday items, and wood shelving is beautiful for towels and linens. You'll have everything you need at the tip of your fingers without disrupting the elegant flow of the room.
Pay attention to lighting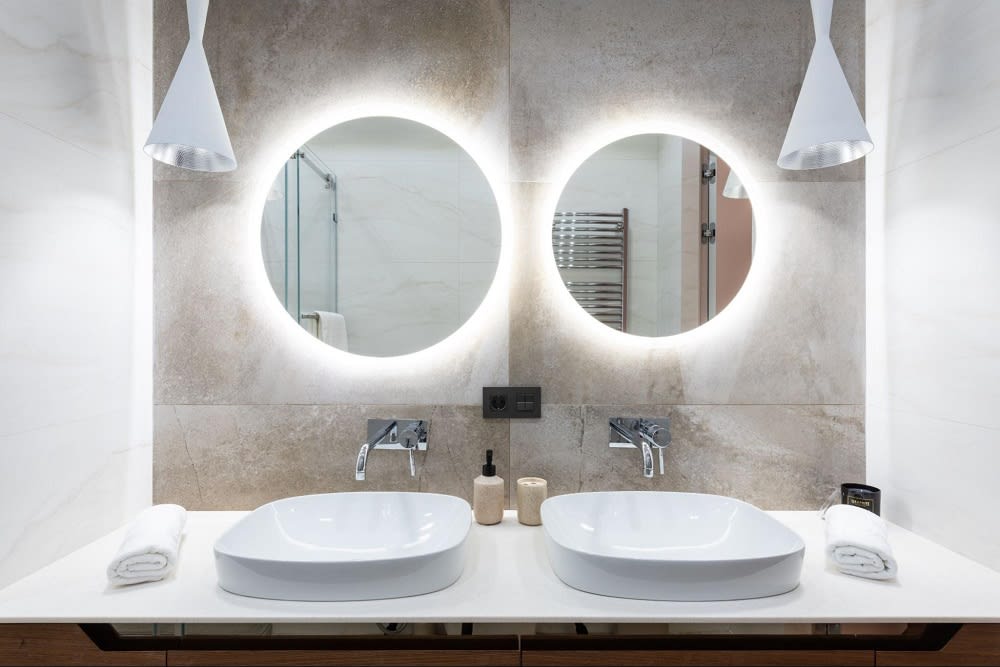 Lighting has a significant effect on the overall mood of your bathroom, especially if you don't get natural light in the space. When picking out your lighting, keep in mind that a luxurious space will have sophisticated and unique lighting fixtures. Decorative wall sconces create a wonderful ambiance, and you can consider a beautiful chandelier. Dimmer switches help adjust the lighting for different occasions. This feature will add decorative accents to your room and a touch of elegance.
In addition to the many benefits these enhancements will give you mentally and physically, upgrading your primary bathroom suite can raise the value of your home, so there is no reason not to make this transformation.
Looking for more home improvement tips? Read our advice for
designing open space concepts
at home.
If you are interested in investing in Washington DC real estate, contact Sebastian and Daniel at
The Alliance
to find your perfect home.