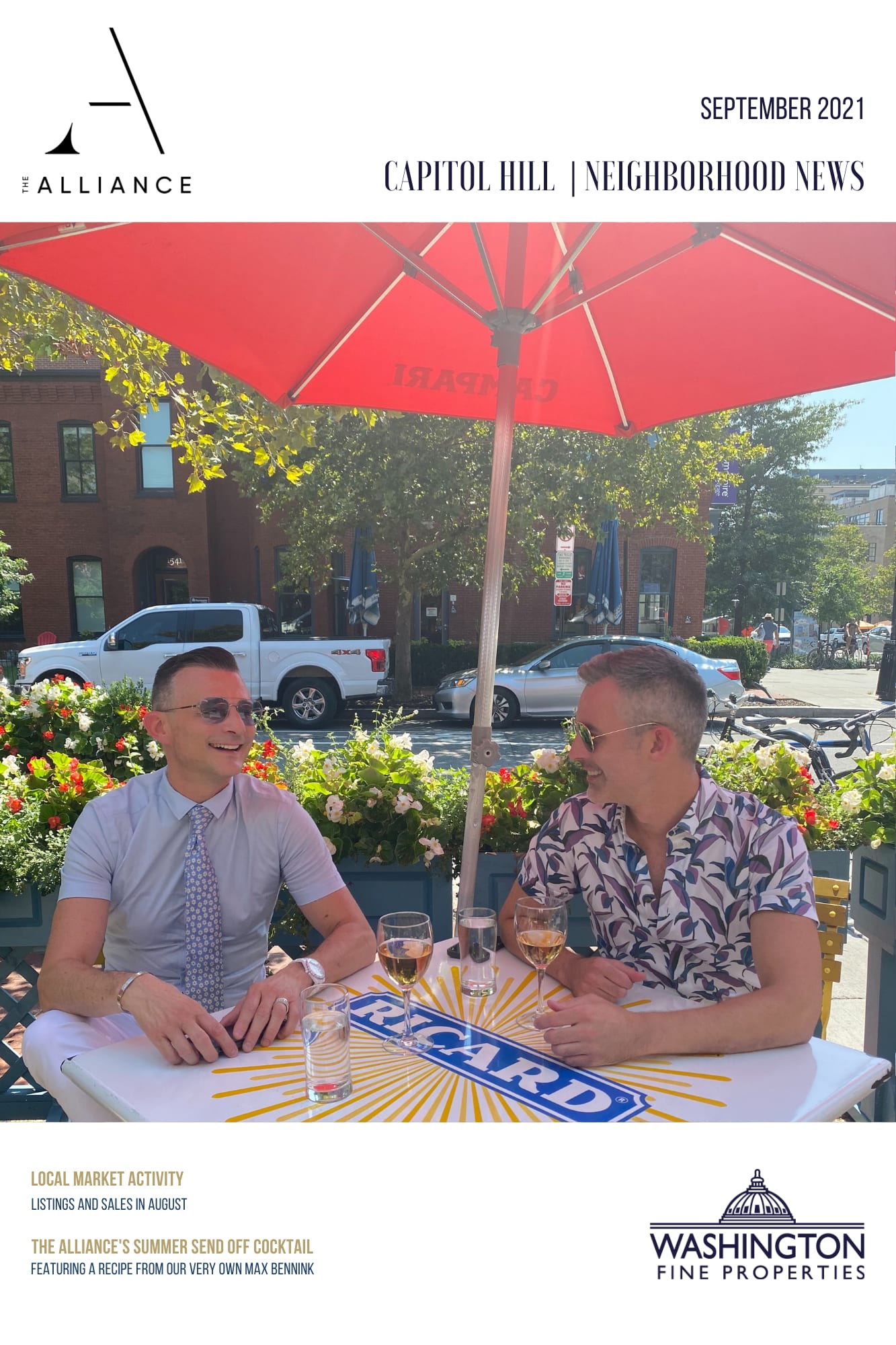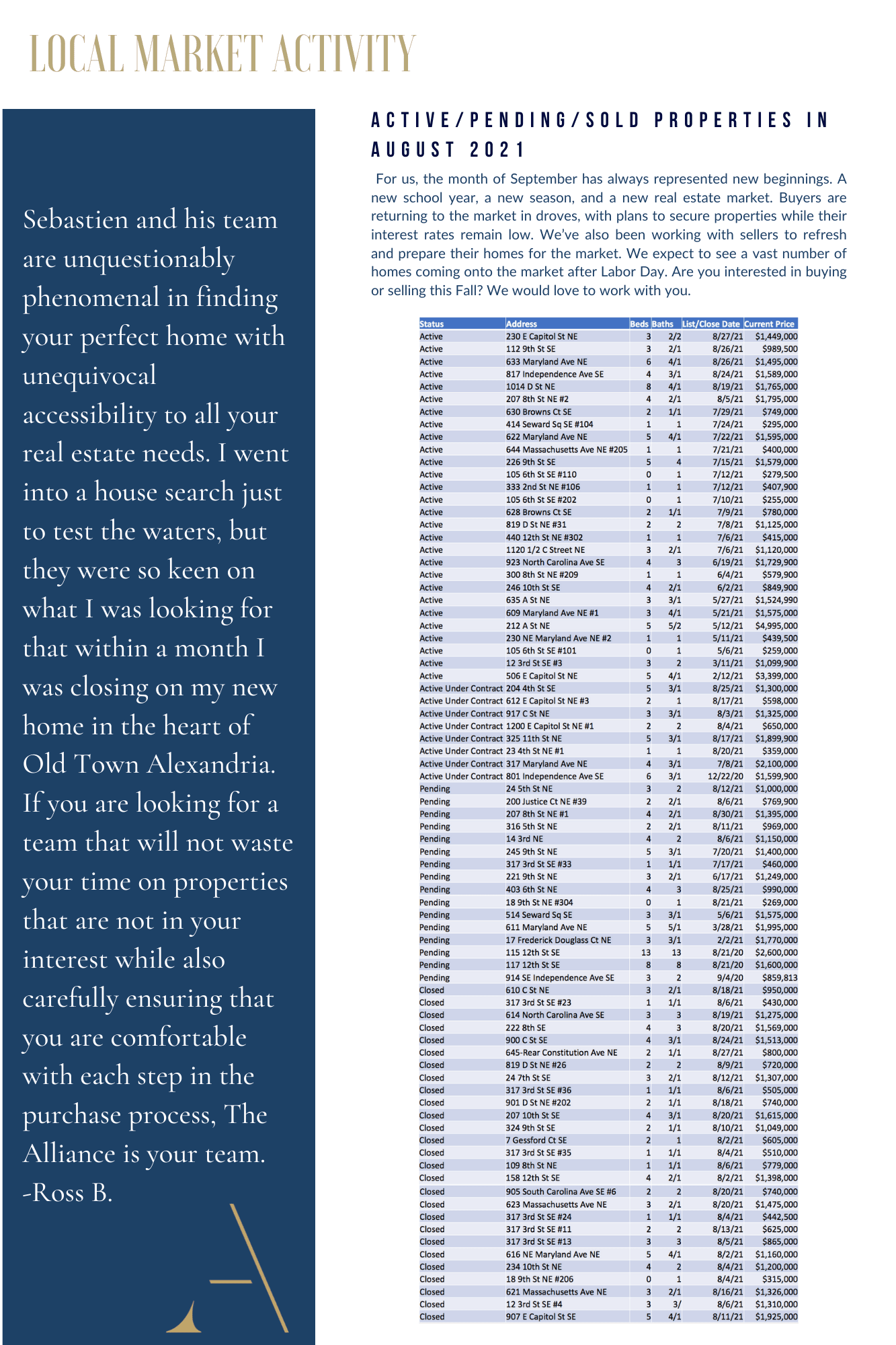 Sebastien and his team are unquestionably phenomenal in finding your perfect home with unequivocal accessibility to all your real estate needs. I went into a house search just to test the waters, but they were so keen on what I was looking for that within a month I was closing on my new home in the heart of Old Town Alexandria. If you are looking for a team that will not waste your time on properties that are not in your interest while also carefully ensuring that you are comfortable with each step in the purchase process, The Alliance is your team.
For us, the month of September has always represented new beginnings. A new school year, a new season, and a new real estate market. Buyers are returning to the market in droves, with plans to secure properties while their interest rates remain low. We've also been working with sellers to refresh and prepare their homes for the market. We expect to see a vast number of homes coming onto the market after Labor Day. Are you interested in buying or selling this Fall? We would love to work with you.
This Summer presented a pleasantly surprising market. Buyers and sellers alike were able to take advantage of this calmer season. Many buyers enjoyed the less competitive environment, while sellers continued to receive strong offers due to a general lack of inventory. While we do expect to see many homes hit the market after Labor Day, we also anticipate a strong influx of well-qualified buyers. Interest rates are rumored to rise in 2022, motivating buyers to make their selections now. Give us a call to learn more about our proven strategies to make your home stand out this Fall.
The Alliance The Alliance Real Estate The Alliance Real Estate Group The Alliance Washington Fine Properties Sebastien Courret Sebastien Courret real estate Sebastien Courret real estate agent Sebastien Courret realtor Sebastien Courret Wash Fine Properties Sebastien Courret Washington DC Sebastien Courret Virginia washington dc real estate washington dc homes for sale washington dc single family homes washington dc townhomes for sale washington dc condos for sale washington dc investment properties washington dc luxury homes washington dc houses townhomes in washington dc washington dc luxury real estate things to do in washington dc washington dc museums mclean real estate mclean homes for sale mclean single family homes mclean townhomes for sale mclean condos for sale mclean investment properties mclean houses for sale mclean house condominiums mclean luxury homes
mclean realtor mclean mansions mclean virginia mansions things to do in mclean va chevy chase real estate chevy chase homes for sale chevy chase single family homes chevy chase luxury real estate chevy chase luxury homes chevy chase mansions chevy chase condos for sale chevy chase townhomes for sale chevy chase houses for sale chevy chase md houses for sale chevy chase houses chevy chase dc homes daniel brewer Washington fine properties the alliance team the alliance alliance real estate sold by alliance washington fine properties agents alliance real estate professionals alliance team realty
the alliance dc the alliance pleasant plains dc max bennink alliance real estate washington dc real estate real estate washington dc dc real estate real estate companies in dc washington dc realtor washington dc real estate agents